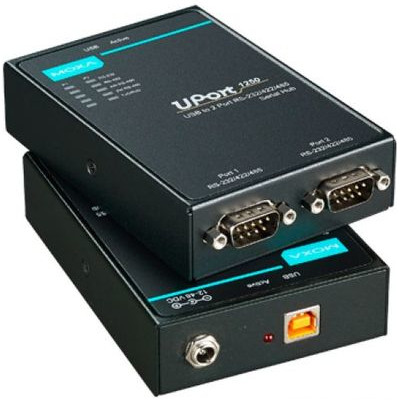 UPort 1250I
USB to 2-port RS-232/422/485 Serial Hub, USB 2.0 hi-speed, 921.6Kbps, 15KV ESD Protection, 2KV Optical Isolation Protection, mini DB9F-to-TB
Prodotti Correlati
DIN Rail Mounting Kit 35mm, for DE-311/211, ...
1+ pezzi: € 3,50
mini DB9 Female to Terminal Block
1+ pezzi: € 9,80
Features and Benefits
Hi-Speed USB 2.0 for up to 480 Mbps USB transmission
921.6 kbps maximum baudrate for super fast data transmission
128-byte FIFO and on-chip H/W, S/W flow control
15N high retention type B connector
Drivers provided for Windows, WinCE, and Linux
LEDs for easy monitoring
15 kV ESD protection for all serial ports
Locking power cord for the UPort 1250I
2 serial ports for easy USB-to-serial expansion
True USB 2.0 high-speed transmission
128-byte FIFO and on-chip hardware and software flow control to ensure stable data transmission
Easy troubleshooting with LED indicators for each serial port
Compatible with both laptops and desktop PCs
Introduction
The UPort® 1250/1250I USB-to-serial converters allow you to connect 2 RS-232/422/485 devices to your laptop or workstation through the USB (Universal Serial Bus) port. These plug & play USB solutions are perfect for mobile, instrumentation, and point-of sale applications. In medical labs, research scientists typically collect large quantities of data from many samples using a variety of different instruments. Most research devices have parameters that can be accessed via a serial port for convenient reconfiguration. Laptops are often used as convenient and space-efficient computing solutions in medical labs, but most modern laptops no longer offer serial ports and only come equipped with USB ports. This presents a connectivity issue unless the USB ports can be expanded into serial ports. Moxa's solution is the UPort® 1250, which is an RS-232/422/485 USB-to-serial converter that can be used to connect 2 serial interface instruments to a computer's USB port, and is particularly convenient for medical researchers since advanced technical expertise is not required.
USB Interface
Compliance: USB 1.1/2.0 compliant
Connector: USB type B
Speed: 480 Mbps (Hi-Speed USB) and 12 Mbps (Full-Speed USB)
Serial Interface
Number of Ports: 2
Serial Standards: RS-232/422/485
Connector: DB9 male
Serial Line Protection
ESD Protection: 15 kV embedded
Electrical Isolation: 2 kV (UPort 1250I only)
Performance
Baudrate: 50 bps to 921.6 kbps (including 500 kbps)
Serial Communication Parameters
Data Bits: 5, 6, 7, 8
Stop Bits: 1, 1.5, 2
Parity: None, Even, Odd, Space, Mark
Flow Control: RTS/CTS, XON/XOFF
FIFO: 128 bytes
Serial Signals
RS-232: TxD, RxD, RTS, CTS, DTR, DSR, DCD, GND
RS-422: TxD+(B), TxD-(A), RxD+(B), RxD-(A), GND
RS-485-4w: TxD+(B), TxD-(A), RxD+(B), RxD-(A), GND
RS-485-2w: Data+(B), Data-(A), GND
RS-485 Data Direction: ADDC® (Automatic Data Direction Control)
Operating Systems
Windows Real COM Drivers: Windows 2000, Windows XP/2003/Vista/2008/7/8/8.1 (x86/x64), Windows 2012 (x64), Windows Embedded CE 5.0/6.0
Android Driver
Linux Real TTY Drivers: Linux 2.4.x, 2.6.x, 3.x
Physical Characteristics
Housing: SECC sheet metal (1 mm)
Weight:
Product only: 180 g (0.40 lb)
Packaged:
UPort 1250: 370 g (0.82 lb)
UPort 1250I: 680 g (1.5 lb)
Dimensions: 77 x 26 x 111 mm (3.03 x 1.02 x 4.37 in)
Environmental Limits
Operating Temperature: 0 to 55°C (32 to 131°F)
Storage Temperature: -20 to 75°C (-4 to 167°F)
Ambient Relative Humidity: 5 to 95% (non-condensing)
Altitude: Up to 2000 m
Standards and Certifications
Safety: UL 60950-1
EMC: CE, FCC
EMI: EN 55022 Class A, EN 61000-3-2, EN 61000-3-3, FCC Part 15 Subpart B Class A
EMS: EN 55024, EN 61000-4-2, EN 61000-4-3, EN 61000-4-4, EN 61000-4-5, EN 61000-4-6, IEC 61000-4-8, IEC 61000-4-11
Green Product: RoHS, CRoHS, WEEE
Power Requirements
Power Consumption:
UPort 1250 (bus power): 360 mA @ 5 VDC
UPort 1250I (12 to 48 VDC external power): 200 mA @ 12 VDC
MTBF (mean time between failures)
Time: 563,179 hrs
Database: Telcordia (Bellcore), GB
Warranty
Warranty Period: 5 years
Le immagini e le caratteristiche dei prodotti presenti sul sito sono di proprietà di MOXA Inc. E' espressamente vietata la riproduzione dei contenuti del sito in qualsiasi modo ed a qualsiasi scopo senza la preventiva autorizzazione scritta da parte di Lastella Trade o MOXA Inc. Le immagini presenti sono a puro titolo esplicativo, in alcuni casi sono foto di gruppo e potrebbero subire variazioni senza preavviso, per le caratteristiche del prodotto fa fede la descrizione prodotto.