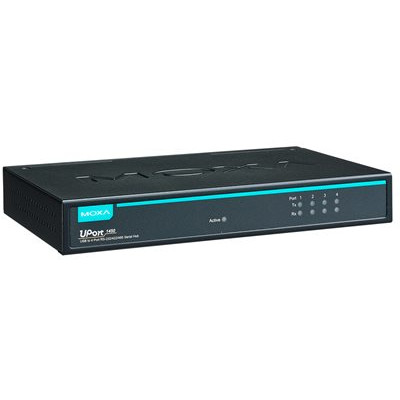 UPort 1450
USB to 4-port RS-232/422/485 Serial Hub, USB 2.0 hi-speed, 921.6Kbps, 15KV ESD Protection, mini DB9F-to-TB
Features and Benefits
Hi-Speed USB 2.0 for up to 480 Mbps USB transmission
921.6 kbps maximum baudrate for super fast data transmission
15N high retention USB type B connector
128-byte FIFO and on-chip H/W, S/W flow control
Built-in 15 kV ESD protection for all serial ports
2 kV electrical isolation (UPort 1450I only)
Hassle-free COM port retention
Drivers provided for Windows/WinCE/Linux
Choose bus power or external power (1450 only)
Locking power jack
No data loss with 128-byte FIFO and on-chip flow control for hardware and software
Electrostatic protection and LED indicators designed for critical environments
Small form factor and wall-mountable to save space
Easy COM port configuration and plug & play capability
3-in-1 RS-232/422/485 support for connecting any serial interface device
Introduction
The UPort® 1400 USB-to-serial converters allow you to connect 4 RS-232 or RS-232/422/485 devices to your laptop or workstation through the USB (Universal Serial Bus) port. The UPort® 1400 converters are compatible with new and legacy serial devices, and are perfect for mobile, instrumentation, and point-of-sale applications. Before the arrival of mobile satellite technology, military applications relied on terrestrial communication systems to collect data in remote locations and broadcast the signals to a geostationary communications satellite. Satellite trucks, which are commonly used in modern Satellite News Gathering (SNG), allow military command centers to gather intelligence and other data with greater mobility and flexibility than before. Due to the mobile nature of SNG technology, onboard data acquisition equipment needs to be highly portable yet provide seamless and reliable communication. In addition, satellite trucks are outfitted with various degrees of video production and editing gear that need to be readily available and connected at all times. One of our military clients uses Moxa's UPort® 1450 converter as their solution of choice for reliable device connectivity in their fleet of satellite trucks.
USB Interface
Compliance: USB 1.1/2.0 compliant
Connector: USB type B
Speed: 480 Mbps (Hi-Speed USB) and 12 Mbps (Full-Speed USB)
Serial Interface
Number of Ports: 4
Serial Standards: RS-232/422/485
Connector: DB9 male
Serial Line Protection
ESD Protection: 15 kV embedded
Electrical Isolation: 2 kV (UPort 1450I only)
Performance
Baudrate: 50 bps to 921.6 kbps (including 500 kbps)
Serial Communication Parameters
Data Bits: 5, 6, 7, 8
Stop Bits: 1, 1.5, 2
Parity: None, Even, Odd, Space, Mark
Flow Control: RTS/CTS, XON/XOFF
FIFO: 128 bytes
Serial Signals
RS-232: TxD, RxD, RTS, CTS, DTR, DSR, DCD, GND
RS-422: TxD+(B), TxD-(A), RxD+(B), RxD-(A), GND
RS-485-4w: TxD+(B), TxD-(A), RxD+(B), RxD-(A), GND
RS-485-2w: Data+(B), Data-(A), GND
RS-485 Data Direction: ADDC® (Automatic Data Direction Control)
Operating Systems
Windows Real COM Drivers: Windows 2000, Windows XP/2003/Vista/2008/7/8/8.1 (x86/x64), Windows 2012 (x64), Windows Embedded CE 5.0/6.0
Android Driver
Linux Real TTY Drivers: Linux 2.4.x, 2.6.x, 3.x
Physical Characteristics
Housing: SECC sheet metal (1 mm)
Weight: Product only: 720 g (1.59 lb)
Packaged: 1320 g (2.91 lb)
Dimensions: 204 x 30 x 125 mm (8.03 x 1.18 x 4.92 in)
Environmental Limits
Operating Temperature: 0 to 55°C (32 to 131°F)
Storage Temperature: -20 to 75°C (-4 to 167°F)
Ambient Relative Humidity: 5 to 95% (non-condensing)
Altitude: Up to 2000 m
Standards and Certifications
Safety: UL 60950-1
EMC: CE, FCC
EMI: EN 55022 Class A, EN 61000-3-2, EN 61000-3-3, FCC Part 15 Subpart B Class A
EMS: EN 55024, EN 61000-4-2, EN 61000-4-3, EN 61000-4-4, EN 61000-4-5, EN 61000-4-6, EN 61000-4-8, EN 61000-4-11
Green Product: RoHS, CRoHS, WEEE
Power Requirements
Power Consumption:
12 to 48 VDC external power:
UPort 1450: 385 mA @ 12 VDC
UPort 1450I: 360 mA @ 12 VDC
MTBF (mean time between failures)
Time: UPort 1450: 546,770 hrs
Database: UPort 1450: Telcordia (Bellcore), GB
Warranty
Warranty Period: 5 years
Le immagini e le caratteristiche dei prodotti presenti sul sito sono di proprietà di MOXA Inc. E' espressamente vietata la riproduzione dei contenuti del sito in qualsiasi modo ed a qualsiasi scopo senza la preventiva autorizzazione scritta da parte di Lastella Trade o MOXA Inc. Le immagini presenti sono a puro titolo esplicativo, in alcuni casi sono foto di gruppo e potrebbero subire variazioni senza preavviso, per le caratteristiche del prodotto fa fede la descrizione prodotto.