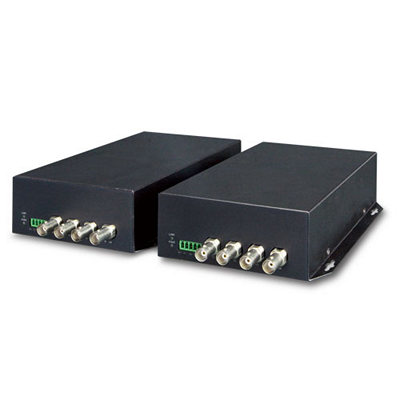 VF-402-KIT
4-Channel Video over Fiber Bundled Kit (VF-402-T + VF-402-R)
Reliable Long Distance Solution for Analog Surveillance System
To deploy AHD/CVI/TVI/CVBS analog camera in a remote place efficiently and provide high video quality and reliable signal, PLANET has developed the video over fiber media converter kit, VF-402-KIT, which is ideal for extending the distance and signal conversion by transmitting the AHD/CVI/TVI/CVBS video and data over the fiber-optic cable. Adopting the intelligent encoding/decoding technology and with the compact box, the VF-402-KIT video over fiber media converter enables the videos to be delivered in high quality up to 20km long in distance.


Features and Benefits
Compliant with hybrid video (AHD/TVI/CVI/CVBS)
20km long-distance data transmission
Fiber optic transmission of four video signals on one fiber with RS485 data signals which may be one way with the video or optional duplex
Status indication for power supply, optical signal and video
High-speed synchronous digital transmission technology
Effective against electromagnetic interference, radio frequency interference, 6KV high-level lightning protection design
Guarantees safe transmission under poor electromagnetic environment
Maximum tolerable link loss for single mode single fiber is 0.35dB/km
Video bandwidth of 60MHz, SNR>67dB
Wide temperature range from -20 to 70 degrees C
Specifications
Video Characteristics
Video Channel: 4-channel bi-direction
Video Connector: BNC
Supported Video Type: 1080p: AHD/TVI/CVI
480p: CVBS
Video Input/Output Impedance: 75ohm/unbalanced interface
Video Input/Output Voltage: 1.0 Vpp / typical peak-to-peak value
Video Bandwidth: 25 to 60MHz
Video Digital Bit Width: 8/10 bit
Differential Gain (DG): < 2% (typical value)
Differential Phase (DP): < 2° (typical value)
SNR-weighted Scheme: > 67dB (typical value)


Data Interface
Data Channel: 4 channels
Physical Protocol: RS485
Operation Mode: Simplex
Data Connector: 4 Pin terminal block with screw clamps
Data Rate: DC-150Kbps
Data Distance: RS485: 0-20km
BPS: 0-115.2Kbps
Bit Error Rate (BER): < 10-9


Optical Interface
Optical Connector: FC
Fiber Type: Single-mode, single fiber
Distance: 20km for single mode
Optical Wavelength: VF-402-T
TX: 1310nm
RX: 1550nm

VF-402-R
TX: 1550nm
RX: 1310nm
Transmitter Coupled Power: Max.: 0dBm
Min.: -8dBm
Receive Sensitivity: -22dBm
Link Budget: From 15dB to 20dB at 1310nm or 1550nm
Cable: 9/125μm single-mode cable
Hardware Specifications:
LED Indicators: Power
Each channel
Link (fiber optic)
Dimensions (W x D x H): 157 × 116.5 × 48 mm
Weight: 580g
Power Requirement: 5V DC, 2A
Chassis Current Consumption: 1.10 amp for 4-channel video and 1-channel data
Mechanical: Metal


Standards Conformance
Regulatory Compliance: FCC, CE


Environment
Operating: Temperature: -20 ~ 70 degrees C
Relative Humidity: 0 ~ 95% (non-condensing)
Storage: Temperature: -40 ~ 85 degrees C
Relative Humidity: 0 ~ 95% (non-condensing)


Le immagini e le caratteristiche dei prodotti presenti sul sito sono di proprietà di Planet Inc. E' espressamente vietata la riproduzione dei contenuti del sito in qualsiasi modo ed a qualsiasi scopo senza la preventiva autorizzazione scritta da parte di Lastella Trade o Planet Inc. Le immagini presenti sono a puro titolo esplicativo, in alcuni casi sono foto di gruppo e potrebbero subire variazioni senza preavviso, per le caratteristiche del prodotto fa fede la descrizione prodotto.