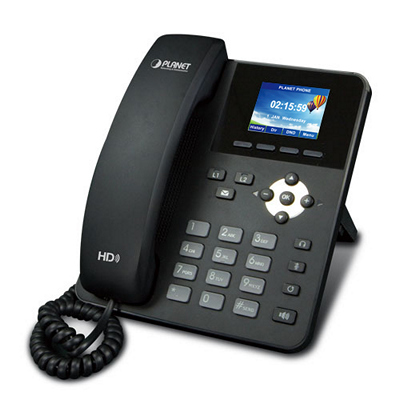 VIP-1120PT
High Definition Color PoE IP Phone
Intuitive Design Brings Quality Communication
PLANET VIP-1120PT is a two-line SIP desktop phone with color display that brings lifelike richness and voice quality to phone calls. The VIP-1120PT is a reliable communication device as it features ease of use, versatility, high-quality design and superb audio performance. Besides, its full duplex speakerphone system with HD voice can definitely make communication between two or more business parties crystal clear with no interference noise in the background as it supports the G.722 wideband codec.


Hardware
Lines (Direct Numbers): 2 SIP Lines
Physical Interfaces: LCD x 1: 2.4-inch (320 x 240) color LCD
Keypad: 32 keys, including
 • 4 soft-keys
 • 12 standard phone digit keys
 • 5 navigation keys
 • 2-line key with tri-color LED
 • 5 function keys
 • 3 volume control keys -- Up, Down, Mute (microphone)
 • 1 hands-free feature

HD hands-free speaker (0 ~ 7KHz) x 1
HD hands-free microphone (0 ~ 7KHz) x 1
HD handset (RJ9) x 1


Protocols and Standard
Protocols: SIP2.0 over UDP/TCP/TLS
RTP/RTCP/SRTP
STUN
DHCP
PPPoE
802.1x
L2TP (basic unencryption)
OpenVPN
SNTP
FTP/TFTP
HTTP/HTTPS
TR069
Request for Comments (RFCs): 354, 1321, 1350, 1769, 1889, 1890, 2131, 2132, 2616, 2617, 2661, 2833, 2976, 3261, 3262, 3263, 3264, 3265, 3268, 3311, 3489, 3711, 4346, 4566, 5630, 5865


Networking
Networking: Physical: 10/100Mbps Ethernet, dual bridged port for PC bypass
IP Configuration: Static, DHCP, PPPoE
Network Access Control: 802.1x
VPN: L2TP (basic unencryption), OpenVPN
VLAN
QoS
Deployment & Maintenance: Auto-provisioning via FTP/TFTP/HTTP/HTTPS/DHCP/OPT66/SIP PNP/TR069
Web management portal
Web-based packet dump
Configuration backup/restore
Auto/Manual online software upgrade
Syslog


Features
Call Features: Call out, answer, reject
Mute/unmute (microphone)
Call hold, resume
Call waiting
Intercom
Caller ID display
Call forwarding (always/busy/no answer)
Call transfer (attended/unattended)
Call parking, pick-up (depending on server)
Redial
Do-not-disturb (per line/per phone)
Auto-answering (per line)
Voice message (on server)
Local 3-way conferencing
Hot line
Phone Features: Phone accessibility control by user PIN
Intelligent phonebook (up to 500 entries in total)
Remote phonebook (XML/LDAP)
Intelligent contact number matching/filtering
Call log (300 entries in total, in/out/missed)
Voice message waiting indication (VMWI)
Network time synchronization
Multi-language support in screen and web UI: English, Chinese (Traditional/Simplified), Japanese, Russian, Italian, Turkish, German, Dutch, Spanish, Hebrew, Polish, French, etc.
Audio Features: HD voice microphone/speaker (handset/hands-free, 0~7KHz frequency response)
Wideband ADC/DAC 16KHz sampling
Narrowband codec: G.711a/u, G.723.1, G.726-32K, G.729AB
Wideband codec: G.722
Full-duplex acoustic echo canceller (AEC) – 96ms tail-length in hands-free mode
Voice activity detection (VAD), comfort noise generation (CNG), background noise estimation (BNE), noise reduction (NR)
Packet loss concealment (PLC)
Dynamic adaptive jitter buffer up to 300ms
DTMF: In-band, out-of-band – DTMF-relay (RFC 2833), SIP info


Environment
Power Requirements: IEEE 802.3af Power over Ethernet
5V 600mA
Operating Temperature: 0 ~ 40 degrees C
Operating Humidity: 10 ~ 65% (non-condensing)
Weight: 620g
Dimensions (W x D x H): 196 x 164 x 60 mm
Emission: CE, FCC, RoHS
Connectors: RJ9 phone jacket x 2:
Handset x 1
Headphone x 1

RJ45 Ethernet jacket x 2:
Network x 1 (802.3af PoE Class 1 enabled)
PC x 1 (Bridged Network)


Le immagini e le caratteristiche dei prodotti presenti sul sito sono di proprietà di Planet Inc. E' espressamente vietata la riproduzione dei contenuti del sito in qualsiasi modo ed a qualsiasi scopo senza la preventiva autorizzazione scritta da parte di Lastella Trade o Planet Inc. Le immagini presenti sono a puro titolo esplicativo, in alcuni casi sono foto di gruppo e potrebbero subire variazioni senza preavviso, per le caratteristiche del prodotto fa fede la descrizione prodotto.