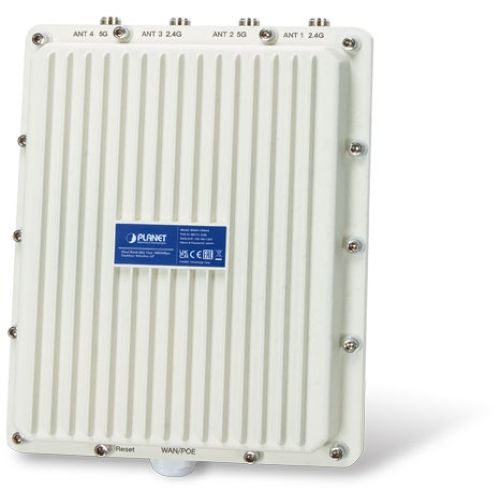 WDAP-1800AX
IP67 Wi-Fi 6 802.11ax, Dual Band 1800Mbps Outdoor Wireless AP (802.3at PoE+ PD, 4 x N-Type connector, 20KV surge protection, -40 to 70C, 802.1Q VLAN, supports NMS-500/NMS-1000V controller, CloudViewer app, MQTT, Captive Portal, RADIUS and cybersecurity fe
Super High Speed and Wide Coverage
PLANET WDAP-1800AX 1800Mbps Dual Band 802.11ax Wireless AP, supporting MU-MIMO, Wave 2.0, OFDMA, Seamless Roaming, Beamforming and BSS Coloring technology, provides a maximum wireless speed of 1200Mbps in the 5GHz band and 600Mbps in the 2.4GHz band. It comes with the IP67-rated aluminum case protected from contact with harmful dust and water. By connecting high-gain antenna through the flexible N-type connectors, the system integrator can easily assist customers in achieving various outdoor long-distance applications under rough weather in any harsh environment. The WDAP-1800AX also offers the 20KV surge protection for wire cable interface that can greatly improve the durability of the product.
Applications
Robust Hardware and Flexible Dual RF for Various Outdoor Requirements
With high-power, long-distance, reliable and comprehensive characteristics, the WDAP-1800AX designed with durable and robust IP67 hardware architecture, and dramatic wireless efficiency is perfect for any outdoor network infrastructure. With higher gain antennas and dual RF design, the WDAP-1800AX is suitable for various applications. For example, the WDAP-1800AX can establish the backhaul link through the 5GHz radio and then relay the wireless signal through the 2.4GHz radio to provide internet service to rural residents. With the WDAP-1800AX, an outdoor wireless infrastructure in the harsh environment can be speedily deployed to reduce cabling cost and installation time.
Features
Industrial Wireless LAN and LAN
Compliant with the IEEE 802.11a/b/g/n/ac/ax wireless technology
802.11ax 2T2R architecture with data rate of up to 1800Mbps (600Mbps in 2.4GHz and 1200Mbps in 5GHz)
Equipped with 10/100/1000Mbps RJ45 port with auto MDI/MDI-X supported
One reset button and power LED indicator
RF Interface Characteristics
Built-in four N-type antenna connectors
High output power with multiply-adjustable transmit power control
Outdoor Environmental Characteristics
IP67 rating, IEEE 802.3at PoE design
Rugged protection with aluminum extrusion case and ground terminal
20KV surge protection for wire cable interface
Operating temperature: -40~70 degrees C
Hardware Specifications
Interface:
PoE WAN: 1 x 10/100/1000BASE-T, auto-MDI/MDIX, 802.3at PoE In
Antenna:
Built-in four N-type connectors
Button:
Reset button (Press over 5 seconds to reset the device to factory default)
Dimensions (W x D x H):
231 x 80 x 295 mm
Power Requirement:
48V 0.5A, IEEE 802.3at PoE+
Power Consumption (max.):
< 15W
Mounting Type:
Mast mounting
±8kV air gap discharge
±4kV contact discharge