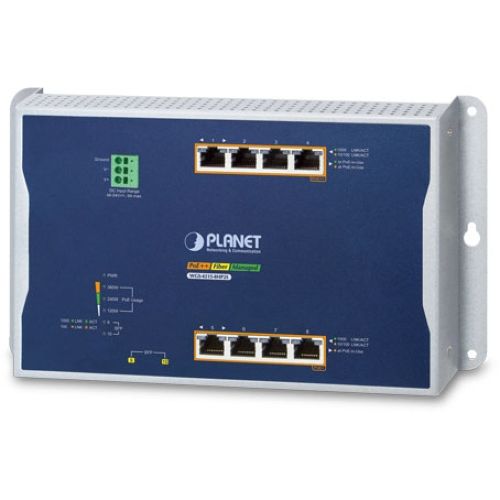 WGS-4215-8HP2S
IP30, IPv6/IPv4, 4 port 10/100/1000T 802.3bt 95W PoE + 4 port 10/100/1000T 802.3at PoE + 2 port 100/1000X SFP Wall-mount Managed Switch (-40~75 C, Max. 360W PoE budget, 250m Extend mode, supports ERPS Ring, CloudViewer app, MQTT and CyberSecurity features
Wall-mounted PoE++ Managed Switch with Advanced L2+/L4 Switching and Security
PLANET WGS-4215-8HP2S is an Industrial Wall-mount PoE++ Managed Switch featuring PLANET intelligent PoE functions to improve the availability of industrial applications. It provides IPv6/IPv4 dual stack management and built-in L2/L4 Gigabit switching engine along with four 10/100/1000BASE-T ports featuring 95-watt 802.3bt PoE++, four 10/100/1000BASE-T ports featuring 36-watt 802.3at PoE+ and 2 additional Gigabit TP/SFP combo port. With a total power budget of up to 360 watts for different kinds of PoE applications, and featuring networking speed and operating temperature ranging from -40 to 75 degrees C in a compact but rugged IP30 metal housing, the WGS-4215-8HP2S is an ideal solution that meets the demands for all network applications.


Applications
Security Industry Automation Switch
Suitable for Industrial factory where security is strictly to be enforced, the WGS-4215-8HP2S offers a comprehensive Layer 2 to Layer 4 Access Control List (ACL). The switch can restrict network access by denying packets based on source and destination IP address, TCP/UDP ports or defined typical network applications. With the WGS-4215-8HP2S, a tightly-controlled network can be easily had in no time.


Flexible PoE Applications over Different Industrial Networks
Providing up to 4 PoE++ and 4 PoE+, in-line power interfaces, the WGS-4215-8HP2S can centrally manage power supplying to an industrial network system where IP phones, IP cameras, wireless APs and more are built. For instance, 8 PoE IP cameras or wireless access points can be easily installed around the corner in the industrial environment for surveillance demands or for a wireless roaming network. Without the power-socket limitation, the WGS-4215-8HP2S makes the installation of IP cameras and wireless APs easier and more efficient.


Features and Benefits
Physical Port
4 10/100/1000BASE-T Gigabit Ethernet RJ45 ports with IEEE 802.3bt PoE++ Injector function
4 10/100/1000BASE-T Gigabit Ethernet RJ45 ports with IEEE 802.3at PoE+ Injector function
2 100/1000BASE-X SFP slots for SFP type auto detection
Industrial Case and Installation
IP30 metal case
Supports -40 to 75 degrees C operating temperature
Supports ESD 6KV DC Ethernet protection
Slim size with fixed wall-mounted design
Hardware Specifications
Copper Ports: 8 x 10/100/1000BASE-T RJ45 Auto-MDI/MDI-X ports
SFP Ports:
2 x 100/1000BASE-X SFP interfaces
Supports 100/1000Mbps dual mode and DDM
PoE Injector Port:
4 ports with 802.3b PoE++ injector function with Port-1 to Port-4
4 ports with 802.3at/af PoE+ injector function with Port-5 to Port-8
Reset Button:
< 5 sec: System reboot
> 5 sec: Factory default
Dimensions (W x D x H): 245 x 140 x 36 mm
Weight: 853 g
Enclosure: Metal
Power Requirements: 48~56V DC, 8 A (max.)
Power Consumption/ Dissipation:
System on: Max. 4 watts/ 13.6 BTU
Full loading with PoE function: Max. 382 watts/ 1303.4 BTU
ESD Protection:
Contact Discharge 6KV DC
Air Discharge 8KV DC
LED
System:
PWR x1 (Green)
Copper Interfaces (Port 1 to Port 8):
1000 LNK/ACT (Green)
10/100 LNK/ACT (Orange)
PoE Interfaces (Port 1 to Port 8):
bt PoE (Green)
af/at PoE (Orange)
SFP Interface (Port 9 to Port 10):
1000 LNK/ACT (Green)
100 LNK/ACT (Orange)