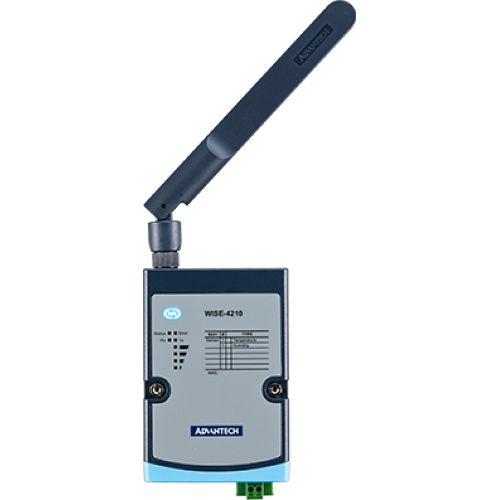 WISE-4210-S231NA
LPWAN IoT WSN Temp RH Sensor
Features
Proprietary LPWAN with using sub-1GHz wireless frequency
Battery power for 5 years with 3 x 3.6V AA batteries
Up to 5 km communication range in open space
Longer communication range than 2.4GHz
Better penetration through concrete and steel than 2.4GHz
Less interference than 2.4GHz spectrum
Application-ready I/O combination with modularization design
Introduction
LPWAN, created for machine-to-machine (M2M) and Internet of things (IoT) networks,
is not a single technology, but a variety of low-power, wide area network technologies.
Compare with traditional mobile network, LPWAN is known as lower cost with higher
power efficiency. WISE-4210 series is the proprietary LPWAN which provides better
connection compare with traditional 2.4G WiFi, WISE-4210 series is helpful of eliminating
network interference.
Additionally, WISE-4210 utilize a LPWAN(low-power, wide-area networks) wireless
interface, which has a kilometer-long communication distance and battery power. The
features of LPWAN make WISE modules ideal solutions for energy and environment
monitoring.


Reduced Interference and Extended Communication Range
Compared with Wi-Fi, Bluetooth, Zigbee, or other 2.4GHz wireless interfae, a sub-GHz
interface can reduce interference at sites. Moreover, Sub-GHz is a type of LPWAN designed
for long-range communications. Under the same power consumption, sub-GHz offers a
longer communication range with low data rate than other 2.4 GHz. technologies.


Powered by a 3.6V AA Lithium Battery
The low power consumption of sub-GHz enables the sensor node to be powered by a
battery. With a 3.6V AA Lithium battery, the sensor node can maintain communication at
a distance of 5 km for up to 5 years, thereby eliminating the need to recharge or change
batteries.


MQTT and RESTful API IoT Protocol Support
IoT Wireless sensor nodes are designed for not only automation applications but also IoT
applications that may use MQTT or RESTful web API IoT protocols for cloud integrations.


Azure IoT Hub Support
To provide a complete IoT sensing solution, the WISE-4210 series goes beyond being
a wireless communication interface for sensors—it also provides cloud connectivity for
additional user applications. With support for HTTPS and integrated APIs for Azure IoT
Hub, the WISE-4210 series can automatically push data to the cloud without requiring
an IoT gateway


Specification
WISE-4210
Frequency Band:
NA915: 923MHz (920.60~924.60), BW: 400kHz
EU868: 868MHz (865.00~869.00), BW: 400kHz
UN433: 433MHz (433.05~434.55), BW: 300kHz

Antenna Gain:
902~928MHz:1.33 dBi
863~870MHz:2.19 dBi

Data Rate: 625bps, 50kbps
Outdoor Range:
625bps: 5 km with line of sight
50kbps: 2 km with line of sight

Topology: Star
Network Capacity: 64 clients


General
Power Input:
AP: 10 ~ 50 VDC
Sensor Node: 3 x AA, 3.6V Lithium Battery or 10 ~ 50 VDC

Battery Life:
625bps: 5 years with 10 minute update rate @ 25°C
50kbps: 5 years with 1 minute update rate @ 25°C

Configuration Interface:
AP: LAN port
Sensor Node: Micro-B USB

LED Indicator: Status, Error, Tx, Rx, Battery/Signal Level
Mounting: DIN 35 rail, wall, pole and stack
Dimension (W x H x D): 70 x 102 x 38 mm
Certification: CE, FCC, IC, NCC, TELEC


Environment
Operating Temperature: -25 ~ 70°C
Operating Humidity: 5 ~ 95% RH
Storage Temperature: -40 ~ 85°C
Storage Humidity: 0 ~ 95% RH