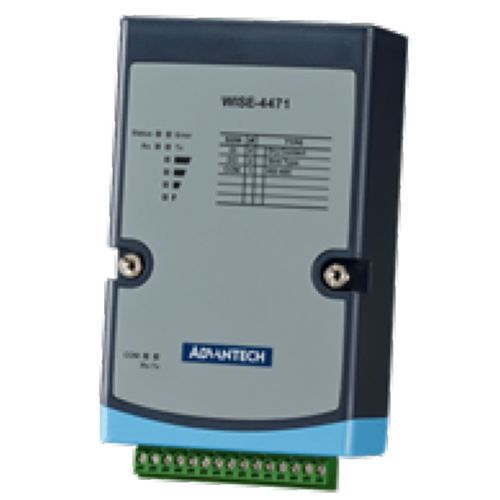 WISE-4471-S250UA
eMTC/NB-IoT IoT WSN with 6DI, 2DO, rs485
Features
Global coverage of NB-IoT and eMTC frequency bands
Application-ready I/O combination with optional IP65 I/O
Wide voltage power input with 10 ~ 50VDC
Data buffered function with time stamp reducing data lost
Fast and easy deployment to reduce operation cost
Supports direct cloud service for IoT integration
Support MQTT and CoAP protocolsIntroduction
Introduction
NB-IoT is a new wireless communication technology with low power consumption in wide
area networks. It is an international standard defined by the 3rd Generation Partnership
Project (3GPP). NB-IoT feature low power consumption and remote transmission and can
be constructed directly on LTE networks based on licensed spectrum bands.
WISE-4471 series is a 4G cellular based IoT wireless sensor node compliant with LTE
Cat. NB1 and Cat. M1 with built in antenna for flexible installation. In addition to offering
various I/O types, WISE-4471 series provides a data logger and direct cloud connectivity
so that data can be published to the cloud by messaging protocol such as MQTT, CoAP,
LWM2M with secure socket supported.


Specification
Wireless Communication
3GPP Standards: R13 LTE Cat M1 / NB1
Frequency Band: 2, 3, 4, 5, 8, 12, 13, 20, 28
Antenna Type: Internal


General
Power Input: 10 ~ 50VDC external power
Configuration: Interface Micro-B USB
SIM: 3FF/Micro SIM
Connector:
WISE-4471-S2xx: Plug-in screw terminal block (I/O and power)
WISE-4471-S4xx: M12 4-pin code-A male x 1 (Power)
M12 8-pin code-D female x 1 (I/O)

LED Indicator: Status, Error, Tx, Rx, Signal Level
Mounting: DIN 35 rail, wall, pole and stack
Dimension (W x H x D): 70 x 112 x 38 mm
Certification: CE(RED), NCC, FCC, IC


Digital Input
Channels: 6 (Dry Contact)
Supports 3kHz Frequency Input


Digital Output
Channels: 2


Serial Port
Port Number: 1
Type: RS-485
Data Bits: 7, 8
Stop Bits: 1, 2
Parity: None, Odd, Even
Baud Rate (bps): 1200, 2400, 4800, 9600, 19200, 38400, 57600, 115200
Protocol: Modbus/RTU (Total 64 addresses by 30 max. instructions)


Environment
Operating Temperature: -20 ~ 60°C
Storage Temperature: -40 ~ 85°C
Operating Humidity: 20 ~ 95% RH
Storage Humidity: 0 ~ 95% RH