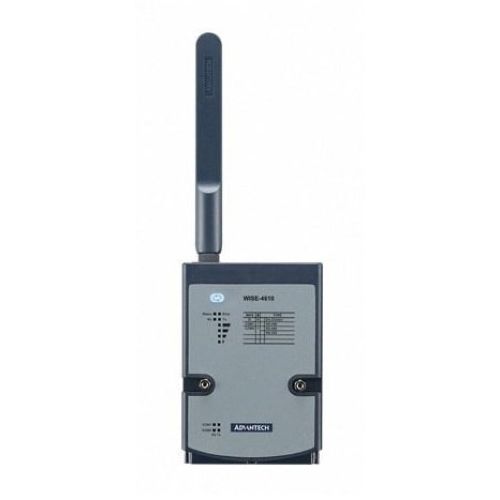 WISE-4610P-NA
Advanced Industrial LoRa Wireless I/O Module
Features
Private LoRa and LoRaWAN selectable
Longer communication range
Better penetration through concrete and steel
Less interference than 2.4GHz spectrum
Application-ready I/O combination with IP65 enclosure
Powered by solar rechargeable battery or 10~50VDC input
GPS/Galileo/BeiDou/GLONASS support
Introduction
LPWAN is a type of wireless telecommunication wide area network designed to allow
long range communications at a low data rate among IoT applications, such as sensors
operated on a battery. Its benefits is to offer multi-year battery lifetime for sensors/
applications to send small amounts of data over long distances a few times per hour
suitable for different environments.
Private LoRa and LoRaWAN are one of category of LPWAN which belong to the non-cellular
LPWAN wireless communication network protocols enables very long range transmissions
with low power consumption, operating in the non-licensed spectrum.


Star Topology
The LoRaWAN networks in a star topology have gateway relaying the data between the
sensor nodes and the network server.
Communication between the sensor nodes and the gateway goes over the wireless channel
utilizing the LoRa physical layer, whilst the connection between the gateways and the
central server are handled over a backbone IP-based network.
The LoRaWAN end nodes(sensors) typically use Low Power and are battery powered
(Class A and Class C). LoRa embedded sensors that run on batteries that lasts from 2–5
years typically. The LoRa sensors can transmit signals over distances from 1km—10km


Wireless Communication
Standard: LoRaWAN or Private LoRa

Private LoRa Frequency Range & Region:
EU 863-870 (MHz)
US 902-928 (MHz)
JP 915-928 (MHz)

LoRaWAN Frequency Range & Region:
EU 868
NA 915
JP 923
AS 923

Other region can be supported upon request
Spreading Factor: 7~12
Outdoor Range: 15Km (L.o.S) by pairing with WISE-6610 (with 2 dBi Antenna)
Transmit Power: Up to +18dBm
Receiver Sensitivity: Up to -136dBm at SF = 12 / 125KHz

Data Rate:
50 kbps at FSK mode EU868
21.9 kbps at SF7 mode US915
5.47 kbps at SF7 mode JP923

Topology: Star
Function: End Node
Antenna Type: External


Le immagini e le caratteristiche dei prodotti presenti sul sito sono di proprietà di ADVANTECH Inc. E' espressamente vietata la riproduzione dei contenuti del sito in qualsiasi modo ed a qualsiasi scopo senza la preventiva autorizzazione scritta da parte di Lastella Trade o ADVANTECH Inc. Le immagini presenti sono a puro titolo esplicativo, in alcuni casi sono foto di gruppo e potrebbero subire variazioni senza preavviso, per le caratteristiche del prodotto fa fede la descrizione prodotto.