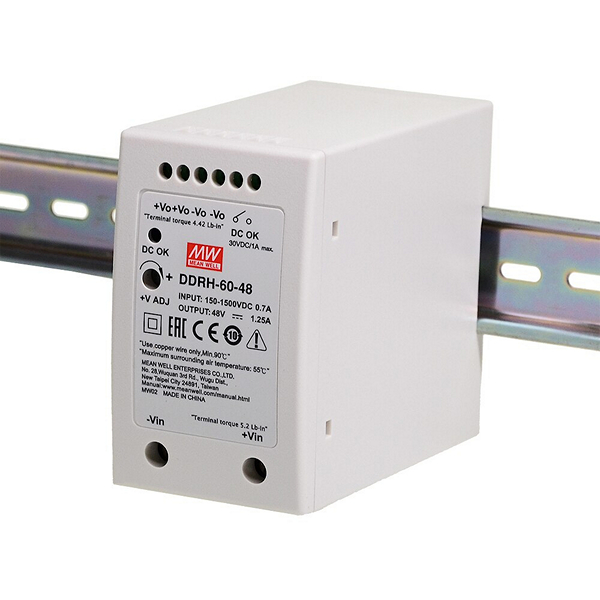 DDRH-60-48
DC-DC DIN Rail Converter 60W, ultra-wide input voltage range 150-1500VDC, output 48VDC 1.25A, slim width 57 mm
DDRH-60 series is a 150 ~ 1500Vdc ultra-high input DIN rail type DC-DC converter which can supply stable working voltage for the load. It is suitable to be mounted on TS-35/7.5 or TS-35/15 rails. Main features are as following: easy to install DIN rail type, narrow width(57mm) in slim design, —30~+80°C wide range operating temperature, 4KVAC high isolation voltage, operation at 5000m altitude, high efficiency, low ripple & noise, complete protections and so on.
DDRH-60 is compliant with EN-61000-6-2 standard regarding immunity for industrial environments. It is suitable for industrial automation, surveillance, telecommunication and can be widely deployed in the applications of new energy generation such as solar power, and windmill power generation, for instances, photovoltaic power systems, high voltage inverting , DC bus centralized application and so forth.


Feature
150 ~ 1500Vdc 10:1 ultra - wide input range
57mm slim width
4KVac I/O high isoIation(Reinforced isolation)
Protections: Short circuit / Overload / Over voltage / Over temperature / DC input under voltage / DC input reverse polarity
Cooling by free air convection
Can be installed on DIN rail TS-35/7.5 or 15
-30~+80°C ultra-wide operating temperature (> +55°C derating)
Over voltage category II
Operating altitude up to 5000 meters
DC OK relay contact
DC output voltage adjustabIe(+20%)
3 years warranty
Applications
Photovoltaic powergeneration
High voltage freqency conversion
Industrial control system
Semiconductor fabrication equipment
Electro-mechanical apparatus
DC bus centralized application
Specifications
OUTPUT
DC VOLTAGE: 48V
RATED CURRENT: 1.25A
CURRENT RANGE: 0 ~ 1.25A
RATED POWER: 60W
RIPPLE & NOISE (max.): 200mVp-p
VOLTAGE ADJUSTMENT RANGE: 48 ~ 54V
VOLTAGE TOLERANCE: ±1.0%
LINE REGULATION: ±0.5%
LOAD REGULATION: ±0.5%
EXTERNAL CAPACITANCE LOAD (Max.): 1000μF


INPUT
VOLTAGE RANGE: 150 ~ 1500Vdc
EFFICIENCY (Typ.) 200Vdc: 87%
EFFICIENCY (Typ.) 800Vdc: 88%
EFFICIENCY (Typ.)1500Vdc: 83%
INRUSH CURRENT (Typ.): COLD START 120A /1500Vdc 80A/800Vdc 30A/150Vdc


PROTECTION
OVERLOAD: 105 ~ 135% rated output power
Protection type: Hiccup up mode when output voltage<55%, recovers automatically after condition is removed; Constant current limiting, recovers automatically after fault condition is removed within 55% ~ 100% rated output voltage

OVER VOLTAGE: 55 ~ 60V
Protection type: Hiccup up mode, recovers automatically after fault condition is removed

OVER TEMPERATURE: Protection type: Hiccup up mode, recovers automatically after fault condition is removed

DC INPUT REVERSE POLARITY: By internal Bridge Diode, no damage, recovers automatically after fault condition removed
DC INPUT UNDER VOLTAGE LOCKOUT: Under voltage protection range:120 ~ 130Vdc , Under voltage release range:130 ~ 146.5Vdc


FUNCTION
DC OK SIGNAL: Relay contact rating(max.): 30V / 1A resistive


ENVIRONMENT
WORKING TEMP.: -30 ~ +80°C (Refer to "Derating Curve")
WORKING HUMIDITY: 20 ~ 90% RH non-condensing
STORAGE TEMP., HUMIDITY: -40 ~ +80°C, 10 ~ 95% RH non-condensing
TEMP. COEFFICIENT: ±0.03%/°C (0 ~ 55°C)
VIBRATION: Component: 10 ~ 500Hz, 3G 10min./1cycle, 60min. each along X, Y, Z axes; Mounting clip: Compliance to IEC60068-2-6
OPERATING ALTITUDE: 5000 meters /OVCⅡ
OVER VOLTAGE CATEGORY: Ⅱ; According to EN62109-1; altitude up to 5000 meters


SAFETY & EMC
SAFETY STANDARDS: IEC62109-1(LVD), EAC TP TC 004 approved; Design refer to UL1741(By request)
WITHSTAND VOLTAGE: I/P-O/P:4KVAC O/P-DC OK:0.5KVAC
ISOLATION RESISTANCE: I/P-O/P, 100M Ohms / 500VDC / 25℃/ 70% RH

EMC EMISSION:
EN55032 (CISRP32) Conducted: Class A
EN55032 (CISRP32) Radiated: Class A
EN61000-3-3 Voltage Flicker

EMC IMMUNITY:
EN55035, EN61000-6-2
EN61000-4-2 ESD: Level 3, 8KV air; Level 2, 4KV contact, criteria A
EN61000-4-3 Radiated Susceptibility: Level 3, 10V, criteria A
EN61000-4-4 EFT/Burest: Level 3, 2KV, criteria A
EN61000-4-5 Surge: Level 4, 2KV/Vin+ ~ Vin-, criteria A
EN61000-4-6 Conducted: Level 3, 10V, criteria A
EN61000-4-8 Magnetic Field: Level 4, 30A, criteria A
EN61000-4-11 Voltage Dips and interruptions: >95% dip 0.5 periods, 30% dip 25 periods,
>95% interruptions 250 periods

MTBF: 454.5K hrs min. MIL-HDBK-217F (25°C) 503K hrs min. Telcordia TR/SR-332 (Bellcore)(25°C)
DIMENSIONS: (WxHxD) 57 x 93.5 x 105 mm


Le immagini e le caratteristiche dei prodotti presenti sul sito sono di proprietà di Mean Well Inc. E' espressamente vietata la riproduzione dei contenuti del sito in qualsiasi modo ed a qualsiasi scopo senza la preventiva autorizzazione scritta da parte di Lastella Trade o Mean Well Inc. Le immagini presenti sono a puro titolo esplicativo, in alcuni casi sono foto di gruppo e potrebbero subire variazioni senza preavviso, per le caratteristiche del prodotto fa fede la descrizione prodotto.