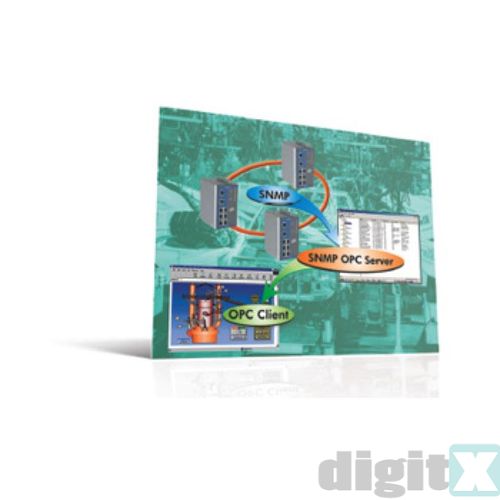 EDS-SNMP OPC Server Pro
CD with EDS-SNMP OPC Server Software and Manual for all of managed switches
Features and Benefits
"Broadcast search" the network for Moxa's managed Ethernet switches and any SNMP device
Easy to create and edit the configuration of connected devices in advance
Easy to create and edit the MIB Template for dedicated tag file of any SNMP device
User-definable tag file meets the requirements of many different applications
Introduction
Moxa's EDS-SNMP OPC Server Pro provides a user-editable Tag file for any SNMP device. Use the default MIB file, or create and edit a standard or private MIB to generate a dedicated Tag file. This powerful function lets operators use an existing HMI software environment to create a customized and real time view of the integrity of all Ethernet network devices, the overall Ethernet network traffic volume, and overall Ethernet network status. Moxa's managed Ethernet switches are ideally suited for connecting Ethernet-enabled industrial devices systemsin your mission critical applications. Combined with EDS-SNMP OPC Server Pro software, your HMI (Human Machine Interface) packages and SCADA (Supervisory Control And Data Acquisition) software will be turned into a complete remote network traffic and status monitoring tool. This solution gives control engineers the power to monitor the network from a central location with existing and familiar visualization and control applications.
System Requirements
Operating System: Windows NT/2000/XP (32 bit)/2008 Server (32/64 bit)/7 (32/64 bit)
Ethernet Card: Must have "Windows Administrator Priveleges"
Le immagini e le caratteristiche dei prodotti presenti sul sito sono di proprietà di MOXA Inc. E' espressamente vietata la riproduzione dei contenuti del sito in qualsiasi modo ed a qualsiasi scopo senza la preventiva autorizzazione scritta da parte di Lastella Trade o MOXA Inc. Le immagini presenti sono a puro titolo esplicativo, in alcuni casi sono foto di gruppo e potrebbero subire variazioni senza preavviso, per le caratteristiche del prodotto fa fede la descrizione prodotto.