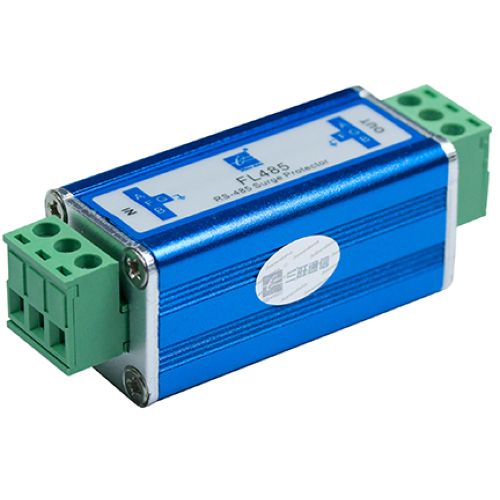 FL485
RS485 Signal Surge Protector
Introduction
FL485 signal surge protector is designed by IEC61000-4-5 and ITU-TK20&K21 standard. It adopts multilevel protective circuit and the newest high-speed surge protection device which has quick response, low residual voltage output and excellent transmission performance. The interface adopts standard industrial terminal blocks which is easy to use and suit for all lightning protection in RS-485 communication field. FL485 signal lightning protector is designed and manufactured on the principle of discharge, limited current, clamping, stabilivolt. When signal wire gets an overvoltage and overcurrent shock, it will put lightning power or its jamming signal into the ground. Overvoltage restriction enables electrical equipment to operate safely within allowable range. This product adopts metal housing and good sealing, which has anti-dust and anti-corrosion function. It adopts serials connection that can restrain high voltage pulse on the wire to prevent backend device from being damaged by lightning and industrial surge. It can be widely used in remote control and transmission of security monitoring device, digital public broadcast system, water/electricity/gas meter of intelligent community, instrument and all kinds of fields that use RS-485 industrial bus control.
Features
Support 1 RS-485 signal input and output, and provide 5kA surge protection
Adopt multilevel protective circuit with quick response and low residual voltage output
Response time is less than 1ns
Applicable rate 1Mbps
Metal housing, great sealing, and resistant to dust and corrosion
Specifications
Serial Port
Standard: EIA RS-485、IEC 61000-4-5、ITU-TK20&K21
Serial port quantity: 1 RS-485 serial port input and output
RS-485 signal: A, B
Interface form: 3-pin industrial terminal blocks
Impact and over-current withstanding: ≤5kA (8/20µs simulated lightning waveform)
Operating voltage: 0~5V
Limited voltage: ≤15V
Applicable rate: 1Mbps
Insertion loss: ≤0.5dB
Response time: ≤1ns
Power Supply / Power Consumption
No
Environmental Limit
Operating temperature: -20~60℃
Storage temperature: -25~85℃
Relative humidity: 5%~95% (no condensation)
Physical Characteristic
Housing: metal
Dimension (W x H x D): 74mm×25mm×25mm
Weight: 50g
Certification
CE, FCC, RoHS
Warranty
1 year
Le immagini e le caratteristiche dei prodotti presenti sul sito sono di proprietà di 3ONEDATA Inc. E' espressamente vietata la riproduzione dei contenuti del sito in qualsiasi modo ed a qualsiasi scopo senza la preventiva autorizzazione scritta da parte di Lastella Trade o 3ONEDATA Inc. Le immagini presenti sono a puro titolo esplicativo, in alcuni casi sono foto di gruppo e potrebbero subire variazioni senza preavviso, per le caratteristiche del prodotto fa fede la descrizione prodotto.