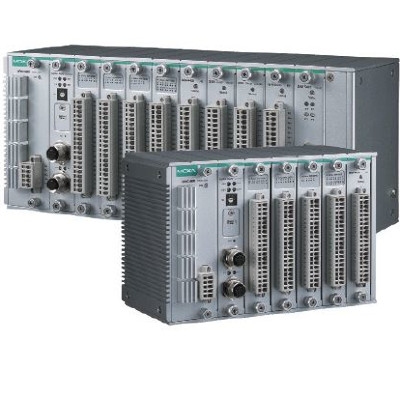 ioPAC 8600-BM009-T
Backplane module, 9 slots, -40 to 75°C
Features and Benefits
Modular CPU/Power/Backplane design that supports 85M/86M modules
Tag-centric design with ready-to-run services
Supports C/C++ and IEC 61131-3 programming languages
Compact, lightweight design
Supports a redundant power module with dual-power inputs
24 to 110 V DI/O module and universal power input range module
Complies with EN 50121-4
Complies with all EN 50155 mandatory test items*
*This product is suitable for rolling stock railway applications, as defined by the
EN 50155 standard.
Introduction
The ioPAC 8600 modular programmable controllers are 100%
modular, giving you the freedom to choose the CPU, power, backplane,
communication, and I/O modules you need for your application. In
addition, the ioPAC 8600 enhances the hardware system architecture
and key features of the ioPAC 8020 and ioPAC 8500 combined, and has
an Ethernet bus on the backplane to support Ethernet switch modules.
The ioPAC 8600 supports the C/C++ and IEC 61131-3 programming
languages and ready-to-run services, including Modbus TCP/RTU,
SNMP, data logging, and email alarms to fulfill different customer
requirements. With active tag and MX-AOPC UA Suite data integration
software, the ioPAC 8600 Series provides a comprehensive solution
for data acquisition and control applications in harsh environments.
Physical Characteristics
Housing: Aluminum
Dimensions:
• 5-slot version: 205.65 x 133.35 x 100 mm (8.1 x 5.25 x 3.94 in)
• 9-slot version: 324.8 x 133.35 x 100 mm (12.79 x 5.25 x 3.94 in)
• 12-slot version: 401 x 132.2 x 100 mm (15.79 x 5.2 x 3.94 in)
Weight (system only):
• 5-slot version: 2560 g (5.64 lb)
• 9-slot version: 3690 g (8.14 lb)
• 12-slot version: 3090 g (6.81 lb)
Mounting: Wall-mounting kit
Environmental Limits
Operating Temperature: -40 to 75°C (-40 to 176°F)
Storage Temperature: -40 to 85°C (-40 to 185°F)
Ambient Relative Humidity: 5 to 95% (non-condensing)
Shock: IEC 60068-2-27
Vibration: IEC 60068-2-6
Altitude: Up to 2000 m
Note: Please contact Moxa if you require products guaranteed to function
properly at higher altitudes.
Standards and Certifications
Safety: UL 508 (Pending)
EMC: EN 55032/24
EMI: FCC Part 15 Subpart B Class A, CISPR 32
EMS:
IEC 61000-4-2 ESD: Contact: 6 kV; Air: 8 kV
IEC 61000-4-3 RS:
80 MHz to 1000 MHz: 20 V/m
1400 MHz to 2000 MHz: 10 V/m
2000 MHz to 2700 MHz: 5 V/m
5100 MHz to 6000 MHz: 3 V/m
IEC 61000-4-4 EFT: Power: 1 kV; Signal: 0.5 kV
IEC 61000-4-5 Surge:
Power: 2 kV (L-PE), 1 kV (L-L);
Signal: 2 kV (L-PE), 1 kV (L-L)
IEC 61000-4-6 CS: 10 V
IEC 61000-4-8 PFMF: 100 A/m
Rail Traffic: EN 50155*, EN 50121-4
*This product is suitable for rolling stock railway applications, as defined
by the EN 50155 standard
Warranty
Warranty Period: 5 years
Le immagini e le caratteristiche dei prodotti presenti sul sito sono di proprietà di MOXA Inc. E' espressamente vietata la riproduzione dei contenuti del sito in qualsiasi modo ed a qualsiasi scopo senza la preventiva autorizzazione scritta da parte di Lastella Trade o MOXA Inc. Le immagini presenti sono a puro titolo esplicativo, in alcuni casi sono foto di gruppo e potrebbero subire variazioni senza preavviso, per le caratteristiche del prodotto fa fede la descrizione prodotto.