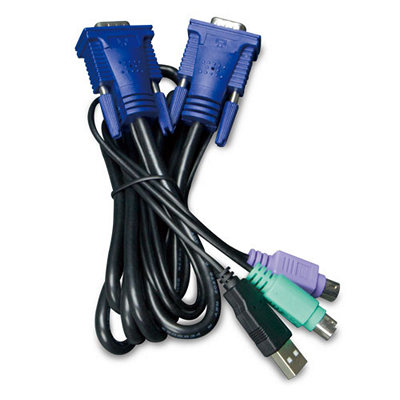 KVM-KC1-1.8
1.8M USB KVM Cable with built-in PS2 to USB Converter
PLANET KVM-KC1-1.8/3/5 Cable connecting your PS/2 computers to your KVM switch determines the quality of communication between the CPUs and the KVM switch. Our custom-made cables are designed to provide the highest signal capacity with the lowest signal loss. This important technology produces the highest quality video output, even after long-distance transmission or in the most electronically noisy environments such as server cabinets. Planet's premium custom-made KVM cables guarantee optimum signal integrity for high-grade server needs. The keyboard and mouse cables are made of double-sealed 28-gauge wire and are neatly wrapped with a heavy-duty video cable for simplified connections.


Applications
KVM (Keyboard-Video-Mouse) switch cables allow you to connect your computers to a KVM switch

Cascade Operation: By cascading to 8/16 KVM switches, up to 64/256 servers can be controlled.


Features and Benefits
PS/2 type or USB type with VGA
Shielded coaxial VGA cable supports clear image
Ferrite cores design for signal filter and anti-interference
Specifications
Connect KVM: 1 D-sub port (15 female)
Connect PC:
Keyboard: PS/2 female + USB type A female
Mouse: PS/2 female + USB type A female
Video: 1 D-sub port (15 female)

Length: 1.8M
Weight: 0.18kg