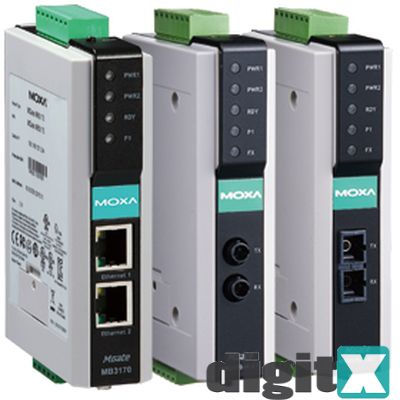 MGate MB3170
1 Port RS232/422/485 advanced Modbus TCP to Serial Communication Gateway
Prodotti Correlati
45W/2A DIN-Rail 24 VDC Power Supply with ...
1+ pezzi: € 52,92
1 Port Modbus TCP - Serial Comm. Gateway ...
1+ pezzi: € 476,15
1 Port RS-232/422/485 advanced Modbus TCP to ...
1+ pezzi: € 387,15
1 Port Modbus TCP - Serial Comm. Gateway ...
1+ pezzi: € 561,59
Features and Benefits
Moxa mb3170 configuration is exceptionally easy
Slave mode supports 16 TCP masters and up to 31 or 62 serial slaves at the same time
Master mode supports 32 TCP slaves at the same time
Emergency request tunnels ensure QoS control
Serial redirector function provided
Embedded Modbus protocol analyzer
Redundant dual DC power inputs
Built-in Ethernet cascading for easy wiring
MGate MB3170 Modbus gateway has received Taiwan Excellence and Good Design awards.
Introduction
Moxa mgate mb3170 is advanced Modbus gateway that provide maximum flexibility for integrating industrial Modbus networks of all types and sizes. It is designed to integrate Modbus TCP, ASCII, and RTU devices in almost any master and slave combination, including serial master to serial slave, or simultaneous serial and Ethernet masters. A special priority control feature allows urgent commands to obtain an immediate response. All models are ruggedly constructed, are DIN-rail mountable, and offer built-in optical isolation for serial signals as an option. The MB3270 can integrate Modbus TCP with Modbus RTU/ASCII, without modifying the existing Modbus RTU/ASCII architecture or software. With the serial redirector function, a serial master can maintain direct access to serial slave devices through a specially mapped serial port. This allows the serial and TCP masters to access serial slaves simultaneously. Advanced models of the MGate™ MB3000 series have two Ethernet ports to make network wiring easier. Dual Ethernet ports allow users to string multiple Modbus gateways together using standard RJ45 Ethernet cables, eliminating the need for a separate Ethernet switch. Advanced models of the MB3000 series have dual power inputs for greater reliability. The power inputs allow simultaneous connections to two live DC power sources, so that continuous operation is provided even if one power source fails. The higher level of reliability makes these advanced Modbus gateways ideal for demanding industrial applications. A relay output is provided for the Ethernet link and power input status. The relay output gives maintenance engineers an additional tool for troubleshooting and maintenance. As Modbus networks increase in size and complexity, the lag time between commands and responses becomes a major concern. Advanced models of the MB3000 series provide a priority control function for urgent commands, allowing users to force certain commands to get an immediate response. Depending on your system's requirements, different methods are available to define which commands receive priority.


Specifications
Ethernet Interface
Protocol: Modbus TCP
Number of Ports: 2 (1 IP, Ethernet cascade)
Speed: 10/100 Mbps, Auto MDI/MDIX
Connector: 8-pin RJ45
Magnetic Isolation Protection: 1.5 kV (built-in)


Serial Interface
Protocol: Modbus RTU/ASCII Slave/Master

Number of Ports: 1

Serial Standards: RS-232/422/485, software selectable

Connectors: DB9 male for RS-232, terminal block for RS-422/485

Magnetic Isolation Protection: 2 kV (for "I" models)
ESD Protection: 15 kV for all signals
RS-485 Data Direction Control: ADDC® (automatic data direction control)
Pull High/Low Resistor for RS-485: 1 kΩ, 150 kΩ
Terminator for RS-485: 120 Ω


Serial Communication Parameters
Data Bits: 7, 8
Stop Bits: 1, 2
Parity: None, Even, Odd, Space, Mark
Flow Control: RTS/CTS, DTR/DSR (RS-232 only)
Baudrate: 50 bps to 921.6 kbps


Serial Signals
RS-232: TxD, RxD, RTS, CTS, DTR, DSR, DCD, GND
RS-422: Tx+, Tx-, Rx+, Rx-, GND
RS-485-4w: Tx+, Tx-, Rx+, Rx-, GND
RS-485-2w: Data+, Data-, GND


Software
Configuration Options: Web Console, Serial Console, Telnet Console, Windows Utility
Utility: MGate Manager for Windows 2000/XP/2003/Vista/Server 2008/7/8 (x86/x64), Windows Server 2008 R2/2012 (x64)
Multi-master and Multi-drop: Master mode: 32 TCP slaves
Slave mode: 16 TCP masters (request queue 32-deep for each master)
Support: Smart Routing, Serial Redirection, ProCOM, Priority Control, MXview, SNMP v1 (read only)

Physical Characteristics
Housing: Plastic

Weight: 360 g

Dimensions:
Without ears: 29 x 89.2 x 118.5 mm (1.14 x 3.51 x 4.67 in)
With ears extended: 29 x 89.2 x 124.5 mm (1.14 x 3.51 x 4.90 in)


Environmental Limits
Operating Temperature:
Standard Models: 0 to 60°C (32 to 140°F)
Wide Temp. Models: -40 to 75°C (-40 to 167°F)
Storage Temperature: -40 to 85°C (-40 to 185°F)

Ambient Relative Humidity: 5 to 95% (non-condensing)
Altitude: Up to 2000 m (795 hPa), higher altitudes on demand


Power Requirements
Input Voltage: 12 to 48 VDC
Power Connector: Terminal block

Power Consumption: 435 mA (max.)

Relay Output: 1 digital relay output to alarm (normal close): Current carrying capacity 1 A @ 30 VDC


Standards and Certifications
Safety: UL 508, EN 60950-1

Hazardous Location:
UL/cUL Class 1 Division 2 Groups A/B/C/D,
ATEX Zone 2 Ex nA IIC T3 Gc, IECEx (-IEX model only)

EMC: CE, FCC
EMI: EN 55022 Class A, FCC Part 15 Subpart B Class A

EMS:
EN 55024,
EN 61000-4-2 (ESD) Level 3,
EN 61000-4-3 (RS) Level 3,
EN 61000-4-4 (EFT) Level 4,
EN 61000-4-5 (Surge) Level 3,
EN 61000-4-6 (CS) Level 3,
EN 61000-4-8 (PFMF) Level 1,
EN 61000-4-11

Marine: DNV
Shock: IEC 60068-2-27
Freefall: IEC 60068-2-32
Vibration: IEC 60068-2-6


Reliability
MTBF (mean time between failures): 210,794 hrs


Warranty
Warranty Period: 5 years
Le immagini e le caratteristiche dei prodotti presenti sul sito sono di proprietà di MOXA Inc. E' espressamente vietata la riproduzione dei contenuti del sito in qualsiasi modo ed a qualsiasi scopo senza la preventiva autorizzazione scritta da parte di Lastella Trade o MOXA Inc. Le immagini presenti sono a puro titolo esplicativo, in alcuni casi sono foto di gruppo e potrebbero subire variazioni senza preavviso, per le caratteristiche del prodotto fa fede la descrizione prodotto.