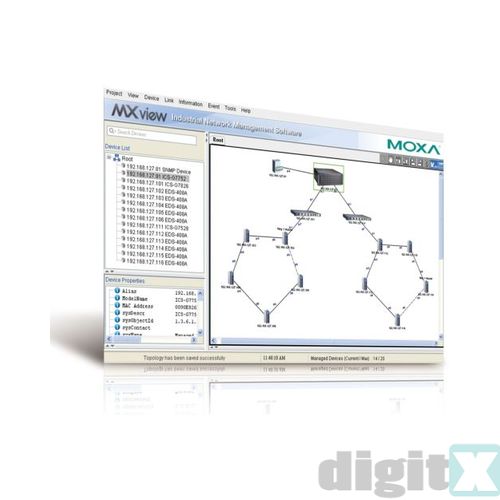 MXview-1000
Industrial network management software with a license for 1000 nodes (by IP address)
Features and Benefits
Event Playback records network events, and replays past network incidents
Discovers and visualizes network devices and physical connections automatically
Provides central management of configurations and firmware for Moxadownload the free trial version devices
Flexible events and notifications with self-defined threshold and duration
Supports third-party devices with MIB compiler and MIB browser
Provides comprehensive reports, including inventory, traffic, and availability reports
Generates OPC 2.0 compliant tags automatically to integrate with SCADA/HMI applications
Visualization
Discovers up to 2,000 Moxa devices and SNMP/ICMP devices within scan range
Visualizes redundant link status and device roles of network redundancy protocols
Graphic VLAN groups and IGMP snooping roles visualization
Device front panel visualization, including ports and LED indicators
Visualizes managed PoE device power consumption
Displays third-party device icons
Network Diagnostics and Event Notification
Detect problems in real-time with SNMP trap/inform, or periodic polling
Generate trend graphs to track bandwidth utilization and error packet rate statistics, accurate to four decimal points
Event Playback records network events, and replays past network incidents
Flexible events and notifications with self-defined threshold and duration
Configurable event notification alarms sent through SMS and email, or locally through program notifications and audio alerts
Generates OPC 2.0 compliant tags automatically to integrate with SCADA/HMI applications
Group health OPC tag represents entire network status
Real-time device availability monitoring
Supports third-party devices with MIB compiler and MIB browser
Collaborates with third-party NMS through SNMP traps
Comprehensive Reports
Maintains device availability reports and records for up to 90 days
Generates an inventory report for each device in the network
Compiles comprehensive device properties report
Generates network traffic trend reports
Centralized Configuration and Firmware Management
Bulk deployment of device configurations and firmware
In one click, back up the entire MXview database in one click, including topology, job scheduling, events, and device properties
Scheduling for periodic configuration backup
Save history of configuration changes
Comparison tool for checking differences between 2 configurations
Introduction
Moxa's MXview network management software is designed for configuring, monitoring, and diagnosing networking devices in industrial networks. MXview provides an integrated management platform that can discover networking devices and SNMP/IP devices installed in subnets. All selected network components can be managed graphically via web browser from both local and remote sites—anytime and anywhere.
System Requirements
CPU: 2 GHz or faster dual core CPU
RAM: 2 GB
Hard Disk Space: 10 GB
OS: Windows XP Professional, Windows 7 (32/64-bit), Windows 8 (32/64-bit), Windows Server 2008 (32/64-bit), Windows Server 2012 (32/64-bit)
Le immagini e le caratteristiche dei prodotti presenti sul sito sono di proprietà di MOXA Inc. E' espressamente vietata la riproduzione dei contenuti del sito in qualsiasi modo ed a qualsiasi scopo senza la preventiva autorizzazione scritta da parte di Lastella Trade o MOXA Inc. Le immagini presenti sono a puro titolo esplicativo, in alcuni casi sono foto di gruppo e potrebbero subire variazioni senza preavviso, per le caratteristiche del prodotto fa fede la descrizione prodotto.