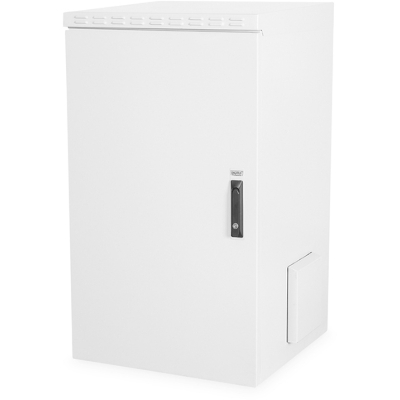 DN-19-26U-6-6-I-OD
ARMADIO RACK 19" PER RETI DA ESTERNO PROTEZIONE IP55 26 UNITA' (AxLxP) 1334x600x600 MM DIGITUS
Prezzo: € 104,71
**************
**************
**************
Alloggiamento a parete 26U, esterni, IP55, 1334x600x600 mm, colore grigio (RAL 7035)
Gli alloggiamenti da parete per esterni IP55 da 483 mm (19") sono stati prodotti per applicazioni industriali. Sono conformi alla classe di protezione IP55 conformi a EN 60529 e quindi sono protetti dall'acqua e dalla polvere.
Le unità di ventilazione e i filtri si basano sulla classe di protezione IP54. Gli alloggiamenti a parete offrono delle prestazioni migliori tra cui il sistema di chiusura a 3 punti con una maniglia girevole e bloccabile e gli ingressi dei cavi isolati. Gli alloggiamenti integrati dei filtri di ventilazione forniscono l'ingresso dell'aria fresca (protezione dall'acqua e dalla polvere secondo IP54). Le aree di applicazione sono gli ambienti esterni che sono esposti agli effetti ambientali (pioggia, povere, grandine, neve, spruzzi).
Classe di protezione IP 55
Porta frontale in acciaio chiudibile con maniglia a leva
Angolo di apertura della porta 140°
Sistema di blocco a 3 punti della porta anteriore
Porta anteriore con terra e due travi saldate di rinforzo a forma di U come sigillatura
Guide zincate da 483 mm (19") installate sulla parte anteriore interna dell'armadio
Le guide profilate da 483 mm (19") sono regolabili in profondità e hanno un segno per marcare l'unità di altezza
Lamiera robusta da 1.5 mm con un'elevata capacità di carico, verniciata a povere
Alloggiamento saldato singolarmente per una maggiore stabilità
Ingressi del cavo a terra: 2x M32, 1x M63, 2x tappi ciechi in PVC (con diametro di 28 mm)
Grazie ai moduli di ventilazione incorporati, la tettoia consente lo scarico del calore dall'alloggiamento
Le scatole integrate del filtro dell'aria forniscono l'ingresso di aria fresca
incluse 4 staffe di montaggio con spessore di 3 mm per l'installazione a parete e le viti e le rondelle adatte
Dimensioni (A x L x P): 1334,600,600 Mm
Colore: grigio chiaro, RAL 7035
Unità: 26
Capacità di carico: 100 Kg
Tipo di armadio: Alloggiamento a parete, esterno
Porta anteriore: Porta in acciaio, chiusa
Larghezza: 600 Mm
Profondità: 600 Mm
Description
26U wall mounting cabinet, outdoor, IP55 1334x600x600 mm, color grey (RAL 7035)

The DIGITUS® IP55 Outdoor Wall Mounting Cabinets are designed for industrial applications with protection against water and dust acc. to safety class IP55.


Protected against dust and water jets (IP 55)
Steel front door with lockable pivot lever and 3-point-locking mechanism
Front door with earthing lead and two welded, strengthening bars in U-shape as well as gasketting system
Free standing usage with additional plinth possible
The 483 mm (19") IP55 Outdoor Wall Mounting Cabinets are designed for industrial applications. They are based on the IP55 safety class which is conform to the EN 60529 and are therefore protected against water-and dirt ingress.Best performance is provided e.g. via the 3-point-locking system with lockable swing handle and isloated cable entries. Integrated air ventilation inlets ensure the entry of fresh air (protection against water and dust acc. to IP54). Application areas are open areas which are under the effect of the environment (Rain, dust, sleet, snow, and splashing water). The cabinets can be used together with a plinth for free standang applications (rear holes for wall mounting can be closed via plugs that are taken from the base of the cabinet when installing the plinth).

Technical Details
Safety class rating IP 55
Lockable steel front door with pivot lever
140° door opening angle
3-point-locking-mechanism on the front door
Front door with earthing lead and two welded, strengthening bars in U-shape as well as gasketting system
483 mm (19") profile rails are adjustable in depth and with height unit marking
1.5 mm strong sheet steel with a high loading capacity, powder coated
Single welded housing for more strength
Cable entries in base: 2x M32, 1x M63, 2x PVC blind cap (with diameter of 28 mm)
Roof canopy offers protection for suitable fan units and takes care of deaeration and hot air
Integrated air ventilation inlets ensure the entry of fresh air
incl. 4 pcs. mounting brackets, 3 mm strong, as well as suitable screws and washers, for wall mounting
incl. 4 pcs. mounting brackets, 3 mm strong, as well as suitable screws and washers, for wall mounting
Equipment mounting depth min.-max.: 142-500 mm
Colour: Grey
Width: 600
Model: With permanent frame
Height: 1334
Depth: 600
RAL-number: 7035
Number of doors: 1
Type of ventilation: Passive
Material: Steel
Number of height units: 26
With socket: no
Degree of protection (IP): IP55
Type of surface: With powder coating
Mounting level: Front side
Type of profile rail: Crank
With roof plate: yes
With earthing: yes
With front door: yes
With backside door: no
With sidewall: yes
Demountable: no
Modular spacing: 482.6 mm (19 inch)