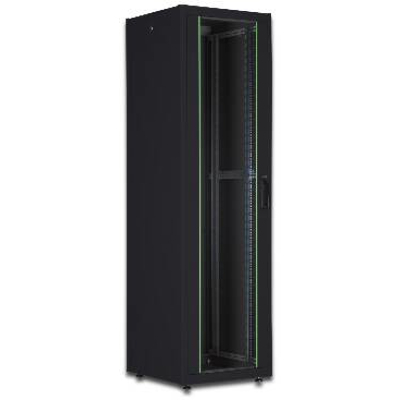 DN-19 26U-6/8-DB
ARMADIO 26 UNITA' 19" PER RETI E SERVER MISURE 1330 X 600 X 800 MM. COLORE NERO
**************
**************
**************
Caratteristiche tecniche
26U network rack, Dynamic Basic 1330x600x800 mm, color black (RAL 9005)

La serie Dynamic Basic di DIGITUS® è stata creata e sviluppata per le esigenze elevate delle infrastrutture IT


Il tetto è predisposto per accogliere un'unità di ventilazione (alloggiamenti perforati)
Maniglia girevole bloccabile sulla porta di ingresso
Basi con ingresso del cavo tagliato, ricoperto con piastre avvitate
L'armadio di rete serie Dynamic Basic è stato progettato e prodotto per il cablaggio e per i componenti di rete. Alcune ottimizzazioni determinano una prestazione ottimale in termini di qualità e di valore. Gli armadi sono di facile utilizzo e progettato tenendo conto dell'estetica. La porta frontale è realizzata in profilati metallici laterali con vetro di sicurezza. Tutti i pannelli laterali e il pannello posteriore sono bloccabili e possono essere rimossi facilmente. Ogni armadio ha bordi galvanizzati da 483 mm (19"), installati anteriormente e posteriormente al suo interno. La profondità è regolabile e ognuno ha un segno dell'altezza di ogni unità. Il tetto è stato progettato per ospitare un'unità di ventilazione. Gli armadi completamente montati da 483 mm (19") sono disponibili in diverse unità di altezza da 22U a 42U e una larghezza e una profondità di 600 mm o 800 mm. I colori standard grigio (RAL 7035) e nero (RAL9005); altri colori disponibili su richiesta.


Dettagli tecnici
Classe di protezione IP20
Porta anteriore con telaio completamente in metallo e vetro di protezione
Sistema di chiusura con maniglia girevole sulla porta anteriore
Angolo di apertura della porta 120°
Blocco a 1 punto sulla porta anteriore
Le pareti laterali e quella posteriore sono bloccabili e removibili
incl. 4 piedini di livellamento che sono già installati sotto il mobile
Guide da 483 mm (19") installate sulla parte anteriore e posteriore all'interno dell'armadio zincato
Le guide profilate da 483 mm (19") sono regolabili in profondità e hanno un segno per marcare l'unità di altezza
Basi con ingresso del cavo tagliato, ricoperto con piastre avvitate
Passacavi punzonati con copertura in plastica sul tetto
Il tetto è predisposto per accogliere un'unità di ventilazione (alloggiamenti perforati)
Diversi punti di messa a terra nell'armadio per i componenti installati
Il tetto è predisposto per accogliere un'unità di ventilazione (alloggiamenti perforati)
Fornito completamente montato
IP protection class: IP20
Colore: nero, RAL 9005
Profondità: 800 Mm
Porta anteriore: Porta in vetro
Unità: 26
Capacità di carico: 600 kg
Mounted: true
Tipo di armadio: Armadio di rete
Larghezza: 600 mm
Description
26U network rack, Dynamic Basic 1330x600x800 mm, color black (RAL 9005)

The DIGITUS® Dynamic Basic Series is made for high demand IT-Infrastructure Solutions - designed and developed on highest standard in Germany


Roof is prepared for fan units (punched out entries)
Lockable pivot lever on front door
Base with punched out cable entry, covered with screwed metal plate
The Racks of the Dynamic Basic Series were designed for the user friendly installation of active- and passive network components accompanied by a neat cable management. Each rack consists of up to 1.5 mm strong steel sheet material which ensures a very good stability as a robust steel construction due to special plate curving technique. The color is created by powder coating in grey (RAL 7035) and black (RAL 9005). For certain conditions, where the set-up location is difficult to reach, the rack can be disassembled. Doors can be easily detached and the door stop can be changed from right to left. Furthermore the roof is ready for the mounting of an air ventilation unit. Each rack contains 2 pairs (4 pieces) of 483 mm (19") profile rails inside which are galvanized and with height unit marking (countable from both directions). They are variable in depth and connected with additional depth support bars to realize extensive 483 mm (19") equipment installations. An important aspect for each installation is the cable management. The base of each rack is equipped with a punched out cable entry covered with a metal plate, whereas the base of 800 mm width racks gets extended with additional punched out cable entries with plastic covers left and right. These are also placed in the roof (1x for 600 mm width cabinets, 3x for cabinets from 800 mm width. An extensive portfolio of accessories for cable management, shelves, etc. will help to meet many requirements in daily use.


Technical Details
Safety class rating IP20
Complete metal frame front door with safety glass
Lock system with pivot lever on front door
120° door opening angle on the front door
1-point-locking-mechanism on the front door
Rear wall and side panels are lockable and detachable
incl. 4 pieces of leveling feet already pre-configured under the rack
483 mm (19") profile rails mounted on the front- and rear side inside of the rack, galvanized
483 mm (19") profile rails are adjustable in depth and with height unit marking
Base with punched out cable entry, covered with screwed metal plate
Roof with punched out cable entries with plastic covers
Roof is prepared for fan units (punched out entries)
Several earthing points for rack components
Incl. installation set (screws, cage nuts, washers)
Rack is completely mounted
Equipment mounting depth min.-max.: 430-750 mm
Colour: Black
Width: 600
Model: With permanent frame
Height: 1330
Depth: 800
RAL-number: 9005
Number of doors: 2
Type of ventilation: Passive
Material: Steel
Number of height units: 26
With socket: no
Degree of protection (IP): IP20
Type of surface: With powder coating
Mounting level: Front and rear
Type of profile rail: Crank
With roof plate: yes
With earthing: no
With front door: yes
With backside door: yes
With sidewall: yes
Demountable: yes
Modular spacing: 482.6 mm (19 inch)