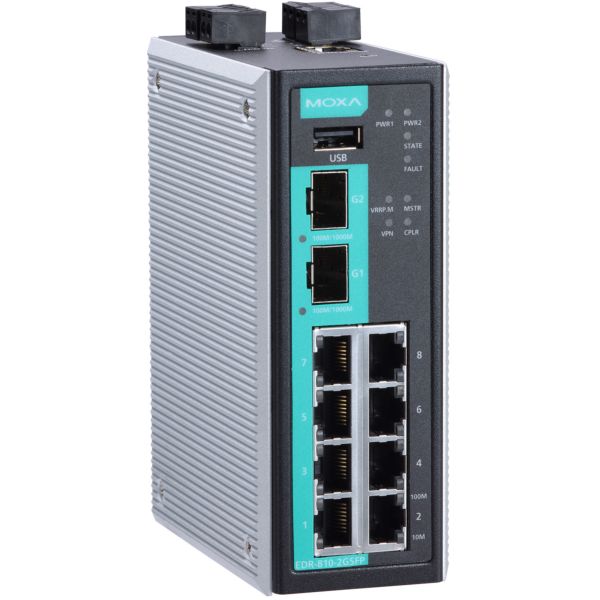 EDR-810-VPN-2GSFP-T
Industrial Secure Router Switch with 8 10/100BaseT(X) ports, 2 1000BaseSFP slots, 1 WAN, Firewall/NAT, -40 to 75°C
Features and Benefits
8+2G all-in-one Firewall/NAT/VPN/Router/Switch
Build up secure remote access tunnel with VPN
Protect critical assets by stateful firewall
Inspect industrial protocol with PacketGuard technology
Setup network easily by network address translation (NAT)
RSTP/Turbo Ring redundant protocol enhances network redundancy
-40 to 75°C operating temperature range (T model)
ISA99 / IEC 62443 / NERC CIP compliance
Check firewall settings with intelligent SettingCheck feature
Introduction
The EDR-810 is a highly integrated industrial multiport secure router with Firewall/NAT/VPN and managed Layer 2 switch functions. It is designed for Ethernet security applications in sensitive remote control or monitoring networks, and provides an electronic security perimeter for the protection of critical cyber assets such as pumping/treatment systems in water stations, DCS systems in oil and gas applications, and PLC/SCADA systems in factory automation. The EDS-810 series includes the following cyber security features:
Firewall/NAT: Firewall policies control network traffic between different trust zones, and Network Address Translation (NAT) shields the internal LAN from unauthorized activity from outside hosts.
VPN: Virtual Private Networking (VPN) is designed to provide users with secure communication tunnels when accessing a private network from the public Internet. Uses IPSec (IP Security) server or client mode for encryption and authentication of all IP packets at the network layer to ensure confidentiality and sender authentication.
The EDR-810's "WAN Routing Quick Setting" provides an easy way for users to set up WAN and LAN ports to create a routing function in 4 steps. In addition, the EDR-810's "Quick Automation Profile" gives engineers a simple way to configure the firewall filtering function with general automation protocols, including EtherNet/IP, Modbus TCP, EtherCAT, FOUNDATION Fieldbus, and PROFINET. Users can easily create a secure Ethernet network from a user-friendly web UI with a single click, and the EDR-810 is capable of performing deep Modbus TCP packet inspection. Wide temperature models that operate reliably in hazardous, -40 to 75°C environments, are also available.
Technology
Standards:
IEEE 802.3 for 10BaseT
IEEE 802.3u for 100BaseT(X)
IEEE 802.3ab for 1000BaseT(X)
IEEE 802.3z for 1000BaseX
IEEE 802.1Q for VLAN tagging
IEEE 802.3ad for port trunk
Protocols SNMP v1/v2c/v3, DHCP server/client, TFTP, NTP/SNTP server/client, HTTP, HTTPS, Telnet, SSH, IPSec, L2TP, IGMP v1/v2/v3, QoS/CoS/ToS, Radius, RSTP/STP, LLDP, DDNS
Routing: Static routing, RIP V1/V2, OSPF
Routing Redundancy: VRRP
Multicast Routing: Static, DVMRP, PIM-SM/SSM
Broadcast: IP directed broadcast, broadcast forwarding
Redundancy: STP/RSTP, Turbo Ring V2
Flow Control: IEEE 802.3x flow control, back pressure flow control
Interface
RJ45 Ports: 10/100BaseT(X) auto negotiation speed
Fiber Ports: 1000BaseSFP slot
Console Port: Web/telnet/SSH/CLI, and RS-232 serial console
RESET button: Reset to default settings
LED Indicators: STATE, PWR1, PWR2, FAULT, 10/100/1000M
Alarm Contact: One relay output with current carrying capacity of 1
A @ 24 VDC
Digital Inputs:
1 2-contact terminal block
+13 to +30 V for state "1"
-30 to +3 V for state "0"
Max. input current: 8 mA
Security Function
Firewall:
Stateful inspection
Filter: IP and MAC address, ports, ICMP, DDoS, Ethernet Protocols
Deep Packet Inspection on Modbus TCP
Quick Automation Profile EtherCAT, EtherNet/IP, FOUNDATION Fieldbus, LonWorks, Modbus/TCP, PROFINET, IEC 60870-104, DNP, FTP, SSH, Telnet, HTTP, IPSec, L2TP, PPTP, RADIUS
NAT: N-to-1, 1-to-1, bidirectional 1-to-1, and port forwarding
VPN: IPSec (client/server), L2TP (server), PPTP (client), Max. 10 VPN tunnels (VPN model)
Encryption: DES, 3DES, AES-128/192/256 (VPN model)
Authentication Pre-shared key: (PSK), X.509v3 certificates, MD5, SHA
Data Throughput: 100Mbps (10000 fps)
VPN Throughput (AES-256, SHA-256): 17Mbps
Switch Properties
Max. Number of VLANs: 16
VLAN ID Range: 1 to 4094
IGMP Groups: 256
Power Requirements
Input Voltage: 12/24/48 VDC (9.6 to 60 VDC), redundant dual inputs
Input Current: 0.37 A @ 24 V
Overload Current Protection: Present
Connection: Removable terminal block
Reverse Polarity Protection: Present
Physical Characteristics
Housing: Metal
Dimensions: 53.6 x 135 x 105 mm (2.11 x 5.31 x 4.13 in)
Weight: 830 g
Installation: DIN-Rail mounting, wall mounting (with optional kit)
Environmental Limits
Operating Temperature:
Standard Models: -10 to 60°C (14 to 140°F)
Wide Temp. Models: -40 to 75°C (-40 to 167°F)
Storage Temperature: -40 to 85°C (-40 to 185°F)
Ambient Relative Humidity: 5 to 95 % (non-condensing)
Standards and Certifications
Safety: UL 508
Hazardous Location: UL/cUL Class I Division 2 Groups A/B/C/D
EMI: FCC Part 15 Subpart B Class A, EN 55022 Class A
EMS:
EN 61000-4-2 (ESD) Level 3, EN 61000-4-3 (RS) Level 3,
EN 61000-4-4 (EFT) Level 3, EN 61000-4-5 (Surge) Level 3,
EN 61000-4-6 (CS) Level 3
Rail Traffic: EN 50121-4
Transportation: NEMA TS2
Shock: IEC 60068-2-27
Freefall: IEC 60068-2-32
Vibration: IEC 60068-2-6
MTBF (mean time between failures)
Time: 981,954 hrs
Database: Telcordia (Bellcore), GB
Warranty
Warranty Period: 5 years
Le immagini e le caratteristiche dei prodotti presenti sul sito sono di proprietà di MOXA Inc. E' espressamente vietata la riproduzione dei contenuti del sito in qualsiasi modo ed a qualsiasi scopo senza la preventiva autorizzazione scritta da parte di Lastella Trade o MOXA Inc. Le immagini presenti sono a puro titolo esplicativo, in alcuni casi sono foto di gruppo e potrebbero subire variazioni senza preavviso, per le caratteristiche del prodotto fa fede la descrizione prodotto.