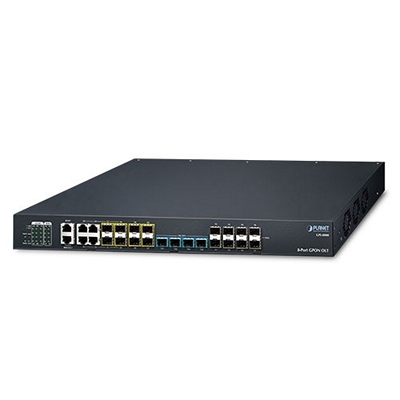 GPL-8000
8-Port GPON OLT with 4-Port Gigabit TP/SFP Combo + 4-Port 1000X SFP + 4-Port 10G SFP+ with optional redundant power
High-performance GPON for FTTx Applications
PLANET GPL-8000 GPON Optical Line Terminal (OLT) consists of eight GPON ports, four Gigabit TP/SFP combo ports, four Gigabit SFP ports, four 10G SFP+ ports and one management port. It complies with ITU-T G.984/G.988 and meets the requirements about GPON OLT in network access technical requirements.
It is easy to install and maintain a GPON deployment up to 1024 ONU and HGU devices, providing highly-effective GPON solutions and convenient management for fiber optic broadband network.


Applications
Cost-effective, Long-distance and High-bandwidth Triple Play or Surveillance Applications
PLANET GPL-8000 delivers high-speed voice, data and video services to residential and business subscribers. With the PON technology, the GPL-8000 offers competitive advantages including a long-term life expectancy of the fiber infrastructure, lower operating costs from the reduction of "active" components, support of up to 20km distance between equipment nodes, easy Installation and maintenance, and most importantly, offering of much greater bandwidth.
The GPL-8000 is the perfect solution for triple play or surveillance applications by offering benefits of cost-effectiveness, scalability and flexibility to network deployment.


Features and Benefits
GPON Ports
8 GPON OLT SFP slots
Up to 2.5Gbps downstream and 1.25Gbps upstream
Maximum transfer distance of up to 20km
Each PON port supports up to 128 ONT/HGU
Compliant with G.984/G.988
Physical Ports
4 10/100/1000BASE-T RJ45 copper ports
8 100/1000BASE-X SFP slots
4 10GBASE-SR/LR SFP+ slots
RJ45 to DB9 console interface for switch basic management and setup
One 10/100BASE-TX Management port
Specifications
Hardware Specifications
GPON Ports: 8, supporting Class C+, Class C++ and Class B+
10/100/1000BASE-T RJ45 Ports: 4 TP/SFP combo interfaces, shared with Port-1 to Port-4
1000BASE-X SFP Slots: 8, supporting 1000BASE-SX/LX/BX SFP transceiver
Backward compatible with 100BASE-FX SFP transceiver
10GBASE-X SFP+ Slots: 4, supporting 10GBASE-SR/LR SFP+ transceiver
Management Port: One 10/100BASE-TX RJ45 port
Console: One RJ45-to-RS232 serial port (9600, 8, N, 1)
CPU: 600MHz
RAM: 512MB
Flash Memory: 32MB
Dimensions (W x D x H): 440 x 304 x 44 mm
Weight: 5,500g
Power Consumption: 60 watts/204.73BTU
Power Requirements - AC: 100~240V AC, 1.5A max.
Power Requirements - DC: 36~72V DC, 3A max.
Fan: 3


Switching
Switch Architecture: Store-and-forward
Switch Fabric: 176Gbps
Switch Throughput: Uplink 87Mpps
Downlink 102Mpps
Address Table: 40K
ARP Table: 8K
ACL Table: 1K
Shared Data Buffer: 2MB
Jumbo Frame: 2KB
Flow Control: Back pressure for half duplex
IEEE 802.3x pause frame for full duplex


GPON Specifications
Transmission Speed: Downstream: 2.5Gbps
Upstream: 1.25Gbps
Optical Split Ratio: Up to 128
Transmission Distance: 20km
PON Module Wavelength: TX: 1490nm; RX: 1310nm
PON Fiber Type: 9/125um SMF(Single mode fiber optic)


Layer 3 Functions
IP Interfaces: Max. 1K VLAN interfaces for IPv4
Max. 256 VLAN interfaces for IPv6
Routing Table: 32K for IPv4
8K for IPv6
Routing Protocols: Static routing
RIP
OSPF


Layer 2 Functions
Port Configuration: Port disable/enable
Auto-negotiation 10/100/1000Mbps full and half duplex mode selection
Flow control disable/enable
Bandwidth control on each port
Port loopback detect
Port Mirroring: TX/RX/Both
Many to 1
VLAN: IEEE 802.1Q tag-based VLAN, up to 4K VLAN groups
IEEE 802.1ad Q-in-Q VLAN stacking/tunneling
GVRP for VLAN management
Spanning Tree Protocol: IEEE 802.1D Spanning Tree Protocol (STP)
IEEE 802.1w Rapid Spanning Tree Protocol (RSTP)
IEEE 802.1s Multiple Spanning Tree Protocol (MSTP)
Multicast: IPv4 IGMP v1/v2/v3 snooping
IPv4 Querier mode support
IGMP Filtering and IGMP Throttling
IGMP Proxy reporting
IGMP multicast forwarding
IPv6 MLD v1/v2 snooping
Multicast VLAN Register (MVR)
Up to 2K multicast groups
Link Aggregation: IEEE 802.3ad Ling Aggregation Control Protocol (LACP)
Static trunk link aggregation
Supports 32 groups with 8 ports per trunk group
Up to 80Gbps bandwidth (full duplex mode)
Load Balance Algorithm:
- Source IP/destination IP/Source + destination IP
- Source MAC/destination MAC/Source + destination MAC
Storm Control: Per 100pps
1-14880
Bandwidth Control: At least 64Kbps stream
QoS: PON interfaces:
Dynamic Bandwidth Allocation (DBA)
Service Level Agreement (SLA)
Limiting the upstream/downstream rate based on each ONT/ONU/HGU

8 priority queues on all switch ports
Scheduling for priority queues
- Weighted Round Robin (WRR)
- Strict priority
Traffic classification:
- IEEE 802.1p CoS/DSCP/Precedence
- VLAN ID
- Policy-based ingress and egress QoS
Ring: IGU-T G.8032 ERPS Ring


Security Functions
Access Control List: Supports Standard and Expanded ACL
- IP-based ACL
- MAC-based ACL
- Time-based ACL
ACL based on:
- MAC Address
- IPv4/IPv6 IP Address
- Protocol-number
- sport/dport
- ToS/Precedence
Up to 1k entries
Security: Transmission data encryption on the PON interface
MAC limitation
MAC sticky
Port isolation
DHCP snooping
Dynamic ARP inspection
IP source guard
AAA: TACACS+ and IPv4/IPv6 over RADIUS
Network Access Control: IEEE 802.1x port-based network access control


Management Functions
System Configuration: Console and Telnet
Web browser
SNMP v1, v2c
Secure Management Interfaces: SSHv2, SSLv3
Maximum 8 sessions for SSH and telnet connection
System Management: IPv4 and IPv6 dual stack management
SNMP MIB and TRAP
SNMP RMON 1, 2, 3, 9 four groups
Firmware upgrade by HTTP/TFTP/FTP protocol through Ethernet network
Configuration upload/download through HTTP/TFTP/FTP protocol
Supports IEEE 802.1ab LLDP protocol
NTP and SNTP client
RADIUS authentication for IPv4/IPv6 login user name and password
Event Management: Remote syslog
System log
SNMP MIBs: RFC 1213 MIB-II
RFC 1215 Internet Engineering Task Force
RFC 1271 RMON
RFC 1354 IP-Forwarding MIB
RFC 1493 Bridge MIB
RFC 1643 Ether-like MIB
RFC 1907 SNMPv2
RFC 2011 IP/ICMP MIB
RFC 2012 TCP MIB
RFC 2013 UDP MIB
RFC 2096 IP forward MIB
RFC 2233 if MIB
RFC 2452 TCP6 MIB
RFC 2454 UDP6 MIB
RFC 2465 IPv6 MIB
RFC 2466 ICMP6 MIB
RFC 2573 SNMPv3 notification
RFC 2574 SNMPv3 VACM
RFC 2674 Bridge MIB Extensions


Standard Conformance
Regulatory Compliance: CE / FCC / LVD
Standards Compliance: IEEE 802.3z Gigabit 1000BASE-SX/LX
IEEE 802.3ae 10Gb/s Ethernet
IEEE 802.3x flow control and back pressure
IEEE 802.3ad port trunk with LACP
IEEE 802.1D Spanning Tree Protocol
IEEE 802.1w Rapid Spanning Tree Protocol
IEEE 802.1s Multiple Spanning Tree Protocol
IEEE 802.1p Class of Service
IEEE 802.1Q VLAN tagging
IEEE 802.1X port authentication network control
IEEE 802.1ab LLDP
RFC 768 UDP
RFC 793 TFTP
RFC 791 IP
RFC 792 ICMP
RFC 2068 HTTP
RFC 1112 IGMP v1
RFC 2236 IGMP v2
RFC 3376 IGMP v3
RFC 2710 MLD v1
FRC 3810 MLD v2


Environments
Operating: Temperature: 0 ~ 50 degrees C
Relative Humidity: 5 ~ 90% (non-condensing)
Storage: Temperature: -10 ~ 70 degrees C
Relative Humidity: 5 ~ 90% (non-condensing)