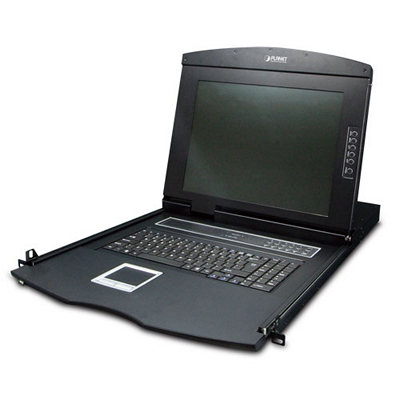 IKVM-210-16M
17 16-Port Combo VGA LCD IP KVM Switch
Prodotti Correlati
1.8M USB KVM Cable with built-in PS2 to USB ...
1+ pezzi: € 9,37
3M USB KVM Cable with built-in PS2 to USB ...
1+ pezzi: € 10,93
5M USB KVM Cable with built-in PS2 to USB ...
1+ pezzi: € 12,50
Control All Your PCs via IP-based KVM
PLANET IKVM-210-16M Combo VGA LCD IP KVM Switch comes with a rack-mountable keyboard, 17" LCD and touchpad in a single console that occupies only 1U of rack space. From across the room, down the street or halfway around the globe, the IKVM-210-16M can be accessed from any computer on the LAN, WAN or Internet. Easy to install and use, it's the optimal solution for controlling up to 16 computers/servers.


Specifications
Hardware
Touch Pad: 1
Number of Ports: 16 D-sub ports (15-pin)
Maximum: 256 by 2-tier star-type cascading
(KVM-210-16 x 16)
PC Ports:
Keyboard: PS/2 female + USB Type A female
Mouse: PS/2 female + USB Type A female
Video: 16 D-sub ports (15 female)
Port Select Panel:
Number Key: 10
Reset: 1
Enter: 1
LED: 16 (Red)
Segment display: 1
LCD Panel:
Monitor: 17" SXGA Color TFT-LCD
Video Resolution: 1280 x 1024
Pixel Pitch: 0.297 x 0.297 mm
Support Color: 16.2 M / 262K colors
Contrast Ratio: 1000:1
Backlight: LED
Keyboard: 100
Video Resolution: Local side: 1280 x 1024 (max)
Remote side: 1920 x 1080 (max)
Remote Console: 1 RJ45 port for 10/100/1000BASE-T
Console USB Hub Ports: 3 USB 2.0 Type A female
LCD Button: 6
Housing: Metal
Dimensions (W x D x H): 445 x 611 x 44.5 mm
Weight: 17.52kg
Power Requirement: 12V DC, 4A
Installation: 1U rack-mountable


Management
PC Selection: Port select button
Hotkeys on keyboard
OSD (on screen display)
Client Software: IPKVM Software
Supported Protocol: TCP, IP, HTTP
Scan Interval: 5~60 seconds
Security: User password and super password
DES, AES and 3DES


Environment and Certification
Operating Temperature: 0 ~ 50 degrees C
Operating Humidity: 0 ~ 90%
Regulatory: CE, FCC
Le immagini e le caratteristiche dei prodotti presenti sul sito sono di proprietà di Planet Inc. E' espressamente vietata la riproduzione dei contenuti del sito in qualsiasi modo ed a qualsiasi scopo senza la preventiva autorizzazione scritta da parte di Lastella Trade o Planet Inc. Le immagini presenti sono a puro titolo esplicativo, in alcuni casi sono foto di gruppo e potrebbero subire variazioni senza preavviso, per le caratteristiche del prodotto fa fede la descrizione prodotto.